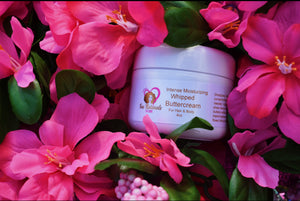 QUENCH THOSE THIRSTY CURLS!
This detangling moisturizing hair butter was formulated to keep your DRY, BRITTLE, TEXTURED KINKS, CURLS & COILS HYDRATED, NOURISHED & INCREDIBLY MOISTURIZED. Our unique blend of butters, special oil blend,  aqueous detangling blend. Results in a rich creamy whipped butter that leaves your hair SOFT, SUPPLE, SUPER HYDRATED and with SEXY DEFINED CURLS. 
Directions: use daily or as needed on wet or damp hair concentrating on ends of hair. Can be used as setting cream to create super juicy twist-outs, three strand twists, flat twists, twaidouts & more
Ingredients:  mango, kokum, cupuacu, murumuru butters, aqueous herbal infusion, aloe vera juice & gel, ayurvedic herbal oil blend, bamboo extract, ice conditioner, cetyl alcohol, 1.3 propandiol, optiphen, phenoxyethanol, fragrance
PLEASE NOTE:
This is a natural hand made product color & consistency of product may vary due to availability and manufacturer. In summer months butters may melt. butter will solidify once placed in cool place. Some ingredients may change without notice due to availability & manufacturer.
The statement above does not change the integrity of our product.
If irritation occurs discontinue use.
Long lasting moisture and definition
I love this product over a hydrating spray and leave in. Moisture lasts for days - especially when sealed in with the Ultimate Dry Hair Serum. I highly recommend this cream!
Butter feels like a dream
I used the butter in my daughters hair. Her hair needed little to no refreshing during the week and came down with very little tangles and not looking dehydrated at all.
I also sealed her hair with the dry hair serum. Hair stayed moisturized for days.
Amazing product
I absolutely love it. I have 4c-4b hair it gives my hair great moisture and shine. It smells great too. Will definitely buy again
A must have!
I loooove this butter! it leaves my hair extremely soft & moisturized and my curls looks amazing!