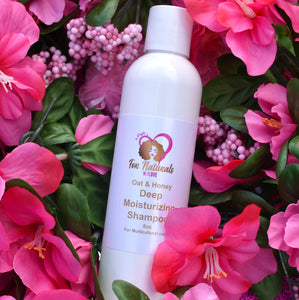 Maintain beautiful healthy hair!
Our nourishing Oat & Honey shampoo was formulated to gently cleanse & soothe your hair.  It contains a special powerful oatmeal blend known for its amazing high levels of moisture in hair and scalp. It's also known to hydrate fight dryness, flakiness, relieves itchy & irritated scalp, soothe sensitive scalp, soften & moisturize.
Directions: gently massage shampoo into wet hair lather rinse thoroughly follow up with conditioner
 Ingredients: aqueous herbal infused oat water, irish moss, honeyquot, sclerotium, oat oil, growth oil extract, mustard oil, glyceryl stearate, glyceryl oleate, coco betaine, 1,3 propanediol, oat protein, bamboo, hair active, optiphen, essential oil blend, fragrance
Please Note:
This is a natural hand made product color & consistency of product may vary due to availability and manufacturer.  Some ingredients may change without notice due to availability & manufacturer.
The statement above does not change the integrity of our product.
If irritation occurs discontinue use. 
keep in a cool place to prolong shelf life
This shampoo is so hydrating without making the scalp feel dirty!
I was amazed by how hydrated and fluffy my daughter's hair felt after washing with this shampoo. It broke apart the bigger knots and tangles easily and was the perfect prep for the conditioning step. Curls were bouncy and full after rinsing out. I just want to say that this is the least shedding we've ever had during the washing and detangling process by using the shampoos and conditioners in this line! So clearly the product helps hair health and length retention. Who wants moisturized weak hair? Not I. Definitely will repurchase!
Moisturizing & hydrating
This is a very hydrating conditioner worked great on my hair!
softer and more manageable
I've been using this moisturizing shampoo for at least two months. My hair feels so silky and easy to finger comb.
My Favorite Shampoo
This shampoo worked a MIRACLE! My hair tangles very easily. The tangles seem to melt away with almost no effort. After rinsing my hair felt soft, moisturized and tangle free